Scientific notebooks
The travel journal originates from the 18th century naturalist's notebook. Taking the form of an herbarium or a logbook, the naturalist's travel notebook collects drawings, leaves, plants, flowers, and other scholarly information. The scientist does not share his impressions, in order to remain objective, but is content with factual and concrete observations.
The inspiration for artists' travel books
The modern travel journal, i.e. drawings and sketches accompanied by texts and personal reflections, was born thanks to artists. The orientalist movement (19th century) inspired many adventurers in their quest to discover the unknown and the exotic.
One example is the French painter Eugène Delacroix (1798-1863), who, during his trip to Morocco in 1832, collected all his impressions – written and drawn – in travel diaries. On his return to France, he used these notebooks to paint more than sixty works inspired by his Moroccan stay.
Similarly, the French artist Paul Gauguin (1848-1903) kept a diary-logbook-travel notebook for three years (Noa Noa, voyage à Tahiti, 1891-1893), a testimony to his long stay in French Polynesia and an inspiration for his pictorial universe.
Regularity: the main difficulty
If scientists and artists use the travel diary as a source of inspiration for their work, why not do the same when travelling?
One of the main problems faced by travellers who want to write about their journey is regularity. Writing about one's feelings and experiences every day may seem simple and fun at first, when the routine of travel has not yet set in. As the trip progresses, fatigue sets in and you no longer feel like writing or following this discipline that you have committed to.
However, diligence is the key to the travel diary because it allows you to make a daily report of your experience in a foreign environment. Following this rigour also means limiting the opportunities to forget elements when you finally decide to catch up on your writing. The story is then made up of distant memories, and risks being distorted to respect a certain continuity.
You should also think about collecting objects, transport tickets, newspaper extracts… a lot of information and material to fill your travel diary.
Spontaneity can be an obstacle
The primary purpose of a travel diary is to share impressions and experiences. It is therefore a personal narrative that is not really for everyone – our relatives, strangers and certainly not the public!
Although more professional travelogues are published and sold, they do not reflect the spontaneity that travellers seek in writing down details they have just noticed and wish to keep a record of. The travel diary is often only made for oneself. It is the traveller's private writing.
The travel journal is not for everyone!
If you are assiduous in your writing, then perhaps you can claim to write a travel diary. However, travel writing is generally aimed more at the 'traveller' and not the 'tourist'.
Travellers are looking for experiences and discoveries, which they can record in their notebook. They want to get closer to the local population, traditions, and daily life to distinguish themselves from average tourists. Their travel diary therefore includes stories of encounters, recipes, descriptions of landscapes, etc.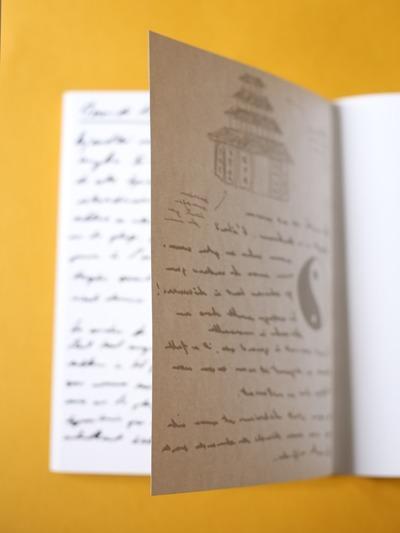 Our advice
Much more than a simple story, the travel journal is a reminder of our experience, a memory of a past moment and even a testimony of our reflections at a given moment in our lives. It can also serve as a personal archive and be passed on to other generations. So, choose wisely!
If you wish to start a travel diary, there are several possibilities with le typographe:
Choose a small notebook (9 x 14 cm format): often more practical to carry, it is less suitable for long journeys.
Choose an A5+ hard cover notebook: with its cardboard cover, it is more rigid and thicker. Its 144 pages will allow you to make numerous sketches, to paste more content to travel further and not be short of resources.
Choose a soft cover A5+ notebook: thin and light, it is just waiting to be filled!
Sources : Stéphane Courant, « Backpackers et carnets de voyage, récit biographique d'une expérience itinérante », Téoros [Online], 32-1 | 2013, Online since 15 décembre 2015, connection on 24 juin 2022. http://journals.openedition.org/teoros/2393
Nathalie VUILLEMIN, « Comment lire le carnet de voyage scientifique au xviiie siècle ? », Viatica [En ligne], 5 | 2018, mis en ligne le 10 février 2021, consulté le 27 juin 2022. URL : http://revues-msh.uca.fr/viatica/index.php?id=863
http://www.musee-delacroix.fr/fr/collections/souvenirs-du-maroc/
Photos unsplash