The Brussels shop
The shop has been located at this address since 2010. The workshop is just behind the shop, behind the courtyard. The Châtelain area is very attractive, it is good to live there, to walk around and to stop in a restaurant or a bar.
In this stationery shop you will find carefully selected items. Each item has an interest, a detail or simply a special design. From elegant stationery to the smallest or thickest notepad and to beautiful notebooks, there is a choice for everyone. The entire le typographe collection is on display in the shop and a range of other stationery brands completes the offer.
Drawing fans can also discover a whole range of drawing books and sketchbooks, as well as felt-tip pens and pencils of varying fineness. For example, the mechanical pencils are varied, from 0.7mm to 2mm and even 5.6mm. You will find brands such as Bindewerk and Mark's.
Also, many writing instruments are presented (Ohto, Caran d'Ache, Kaweco, and many others). Are you looking for an elegant pen, a high quality fountain pen, a ceramic pen, or simply an extra fine felt-tip pen? We will be happy to advise you on the right writing instrument for your needs.
At the back of the shop, a "Moineau" corner contains the articles formerly sold in the "Moineau" shop located on the Place du Châtelain. This corner offers various articles for the home. Such as candles of different brands: Panier des Sens, Astier de Villatte, Christian Tortu, an assortment of beeswax candles and also candles of different shapes and colours. You will surely be seduced by the large choice of mini Japanese ceramics. The pure wool blankets are chosen for their quality and brightness. Finally, let yourself be surprised by the mobiles with their graceful movements, the leather cases with their soft touch, the soaps with their irresistible fragrances or the pleasant incenses.
Personalisation of "le typographe" items
As each item of stationery from the le typographe brand is manufactured on site, you can personalise each notebook, notepad, pad, card, mini card and envelope. A minimum of 20 pieces is recommended to smooth out the costs.
On the other hand, if you wish to personalise a notebook, we propose the cardboard notebook with its hard cover, in A5+ format (15.80 cm x 22 cm) – 144 blank pages. You can choose the colour of the cover and within a few days we will print your name on the front cover in hot foil.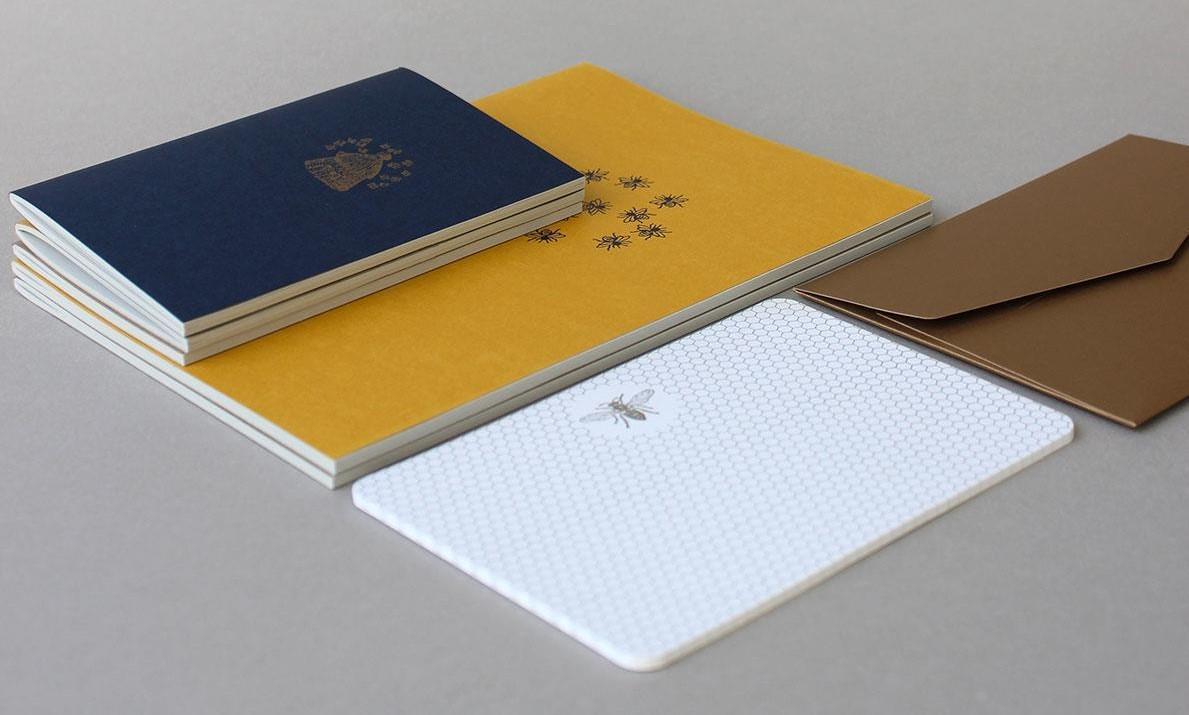 They bought their stationery in Brussels at le typographe shop
We discovered these beautiful products in 2010. So timeless and strong, perfectly handmade. The paper, colors, typeface, everything is so tasteful and delicious, like an eclair.

Every year we order the agenda as a present for ourselves. Now we have the 2023 agenda already in my studio since September. Funny how every next year is starting earlier 🙂

Inspiring to use and always makes me smile when I open the pages.

Thanks a lot ; you are doing a superb job.

I look forward to being able to use these beautiful cards soon.

Thank you again for the excellent work on the T birth card.

We have received a lot of very enthusiastic and positive feedback.

So, we were able to recommend the typographer to many of our friends 🙂
Stationery and cards at le typographe
Can you advise me on my stationery purchase or on a gift idea?

Yes, of course. The staff in the shop will be happy to answer your questions and advise you on the most suitable object for your wish, need or search.

If you are looking for a gift idea, we can also offer you various possibilities, whatever your budget. We offer elegant gift wrapping (free of charge of course!) to complete the gift.

What types of products can I find in the shop le typographe?

Vous trouverez dans nos boutique de Bruxelles et de Nantes des articles de papeterie tels que des carnets, des blocs notes, des cahiers cousus, à spiral ou dos collé, du papier à lettres, des enveloppes, des cartes postales, des carnets de dessin, des instruments d'écriture (stylos plume, stylos bille, crayons à papier, crayons de couleurs, feutres fins, feutres fluorescents, …), divers accessoires de papeterie comme des gommes, des stickers, des magnets, des ciseaux, des cachets, de l'encre, de la colle, des trousses en cuir, des porte-cartes, des agrafeuses, du papier cadeau, du tape, des origamis, et d'autres instruments.

La carterie est très présente dans nos boutiques et la gamme de cartes postales ou de mini cartes très étendue : si vous cherchez une carte d'anniversaire originale de grand format par exemple ou une carte pour dire votre amour, une carte pour remercier ou une carte de condoléances, n'hésitez pas à passer pour choisir le modèle le plus adapté.

Dans le corner "Moineau", vous découvrirez des bougies, des céramiques, des savons solides et liquides, des couvertures, des boites en métal, des encens, des pin's et des broches, des mobiles, des rubans, des vases, …

What brands do you sell?

We mainly sell the stationery products of our brand "le typographe", but some products of other European stationery brands are selected, such as Bindewerk, Kaweco and Caran d'Ache as well as Japanese brands (Mark's and Midori for example).
Customisation
They trusted us!

Many customers have already trusted us with their personalized printing project:

Design and Fashion

Diptyque   .   Bellerose   .   Natan   .   Jacadi   .   Markor International   .   Not Another Bill   .   Loudordesign studio   .   O.fée   .   witra   .   Tartine et Chocolat

Museums and Theaters

Musée Rodin   .   Musée Horta   .   Museo Nacional del Prado   .   Théâtre de la Monnaie   .   Boutique de la Comédie Française   .   Gouffre de Padirac   .   Musée Rops

Banks

Banque Degroof Petercam   .   Belfius Bank

Other sectors

Renault retail group   .   IVC group   .   Terres d'ici – EcoFarm du Long Fond   .   Média Figaro   .   Restaurant Bon-Bon   .   Moët Hennessy   .   Alunites

Who can I contact to get a quote and start my printing project? Can you help me with the design of this item?

Can I customize the items in your stationery line? From what quantity is it possible?

Yes, it is possible to personalise the items you see on the eshop.

We ask for a minimum quantity of 100 pieces for customization for professionals and 20 pieces for individuals.